_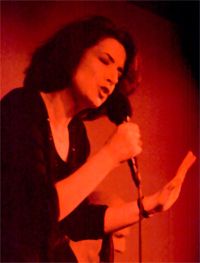 About Meg Flather…
 Singer/songwriter and actress Meg Flather is a two-time Backstage Bistro Award-winning performer and has garnered glowing reviews from top New York City publications. As a comic actress, she has appeared on Late Night with Conan O'Brien and The Rosie O'Donnell Show. As a singer/songwriter Meg was featured performer for The Gay Men's Health Crisis at New York's historic Webster Hall, the 2002 Vermont Film Festival and the 2003 and 2004 Tribeca Film and Family Festivals.
 While hosting The Rosie O'Donnell Show, Caroline Rhea described Meg's music as "totally beautiful." Meg's songs are showcased in the independent film, Nobody's Perfect, which screened at the 2003 Cannes Film Festival, Off-Broadway's Acts of Love, Juilliard graduate thesis film Betty on the Bed  and a multi-media project dedicated to mental illness and teen suicide prevention, A Secret Best Not Kept.
 Meg is often compared to four contemporary singer/songwriting legends: lyrically to Joni Mitchell, vocally to Carly Simon and Annie Lennox and stylistically to Suzanne Vega.  To listen to or purchase Meg's music, simply select the Music section of this website! Meg appears regularly at The Metropolitan Room, (NY Magazine's number one pick for Cabaret), Don't Tell Mama, The Sidewalk Bar, (NY hot spot for alternative music) and Bar Nine. Meg is a member of ASCAP and all songs are published by Margaret Hall Music.
 Meg also makes television commercials, corporate films and is the spokesperson for several brands internationally in the world of home shopping. As an expert in field of health and beauty, Meg has appeared in the USA on HSN, SHOP NBC, QVC, The Discovery Channel and The Shopping Channel of Canada and TVSN of Australia.