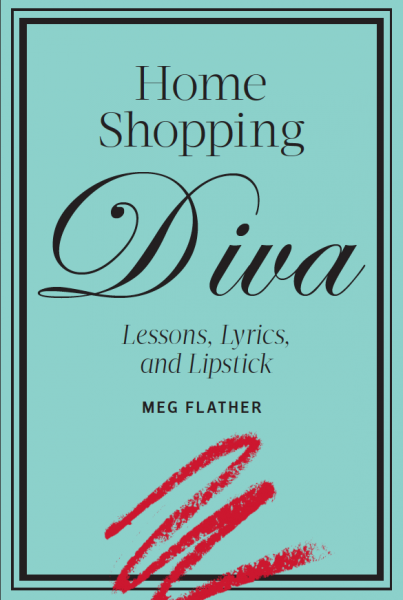 Home Shopping Diva...Lessons, Lyrics, and Lipstick is the story of Meg Flather's journey through the overlapping worlds of stage performance, retail cosmetics, and home shopping television. 
Born in the Philippines as the youngest daughter of Peace Corps parents, she spent her first five years in Micronesia and Malaysia before moving to a suburb of Massachusetts and eventually to New York City.
Her memoir recounts the unpredictable journey of being a stage and commercial actress, singer and songwriter, all while honing her skills in the cosmetic world, to ultimately debut on home shopping television.
Frank and funny, Home Shopping Diva tells the story of a woman coming of age, her ups and downs, the men and the mentors, and the surprising lessons she learned when she just "let go."
Beverly Hills Book Award finalist for "Best Memoir" is available now at Amazon.com!
"Meg Flather with her 'entertaining energy' on the stage has showed an example of how being brave and taking risks, including career change, can advance your life and change you. Therefore, the lesson I got from her was more personal that strictly related to fashion industry. "
FIT student that attended Meg's book seminar
Finalist for Best Memoir Beverly Hills Book Awards
http://www.beverlyhillsbookawards.com/2015-BHBA-Winners-and-Finalists.htm
Writing Blog for booksbywomen.org
http://booksbywomen.org/homeshopping-diva-turned-writer-meg-flather/
Natalie Loves Beauty
http://www.natalielovesbeauty.com/2014/12/home-shopping-diva-lessons-lyrics-and.html 
The Absolute Magazine
"The lessons Flather learned are universal, so even if you're not interested in the arts or fashion industry, readers will find themselves being able to relate to her trials and tribulations...If you're looking for a heartwarming and inspirational memoir to keep you motivated when the winter blues hit, you'll enjoy Flather's entertaining novel."
Amanda Ferris - The Absolute Magazine